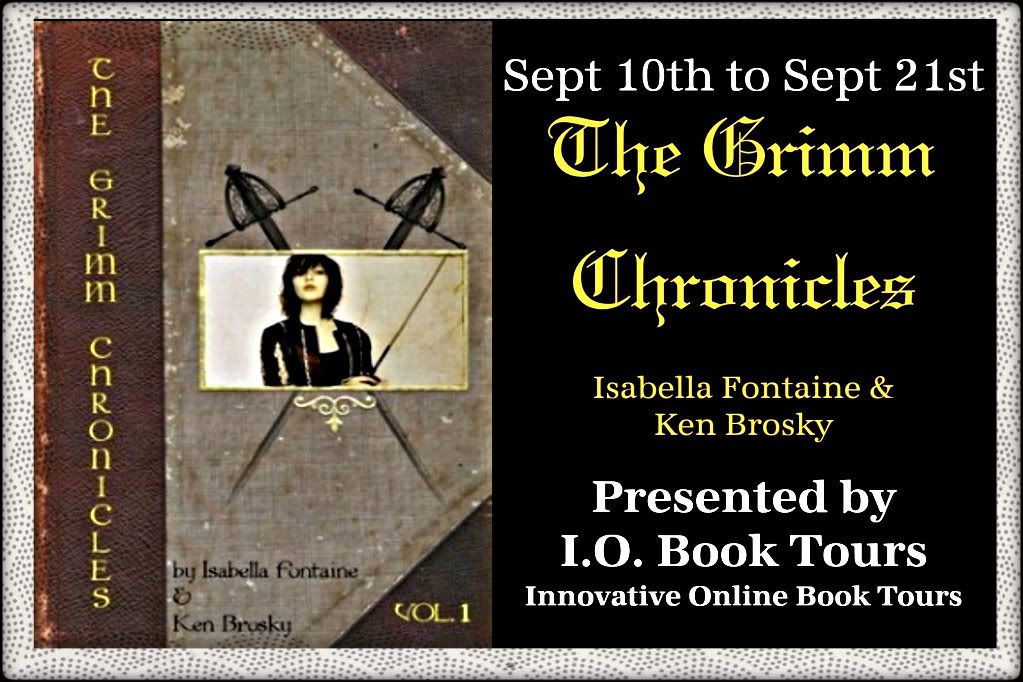 The Grimm Chronicles Book Tour Stop // Review
The Grimm Chronicles
Author: Isabella Fontaine & Ken Brosky
Series: Vol. 1
Publisher:
Brew City Press
Genre: YA // Fairytale Retellings
Note : I received this book for the tour in return for a review! (Thank you ! )
Goodreads
//
Amazon
//
Barnes & Noble
//
Book Depository
The Grimm Chronicles, Vol. 1


200 years ago, the Brothers Grimm unleashed their stories upon the world. Literally. Now the
characters of the Grimms' stories walk among us. With every day that passes, they grow more
evil. They are the Corrupted, and only a hero can stop them.

For 18-year-old Alice Goodenough, that means taking precious time off from her summer
vacation. In addition to volunteering at the local library, Alice must stop the Corrupted who are
now actively hunting her down. With the help of her magic pen and her trusty rabbit friend, the
world has suddenly gotten a lot more complex. The Corrupted are everywhere, and only Alice
can see them for what they truly are.

This book contains the first 3 episodes of the critically acclaimed series: Episode 1: Prince
Charming Must Die!
Episode 2: Happily Never After
Episode 3: Revenge of the Castle Cats

Additional features for the print edition:
- An introduction
- Two special "Lost Diaries"
- A behind-the-scenes interview
- A collection of original Grimms' Fairy Tales

The Grimm Chronicles is intended for Young Adults aged 13 and up. The goal is to provide
Young Adult readers with a strong, charismatic young woman in the role of the hero and provide
readers with a positive protagonist who uses her brain to overcome obstacles life throws in her
way.
Ahh~~ I just love fairytale retellings! They're so much fun to read about. I don't think I've ever read a fairytale retelling yet (knock on wood) that I haven't liked! The Grimm Chronicles is definitely included. It started off a bit slow but once Alice meets the rabbit and the story sets in- it's such a wonderful adventure!
We follow Alice Goodenough- who is an 18 year old senior in school. She's pretty normal- has a boyfriend, volunteers at her local library (I wan't to do that.), etc. Until she gets all caught up in the Grimm fairytales- which are not the sweet happy fairytales we all know and love. The original ones are scary and evil and honestly- really interesting! I loved reading about the actual stories that started them all and seeing how they compare to the new ones. Alice was a very strong character, and her nifty sidekick (Briar) was a joy to have along as well!
I loved how Alice went through many different stories in this book. It kept moving and I felt myself getting more and more
immersed
in it as I continued reading. At times in the book, I thought Alice could overlook many things and not catch on very quickly which got on my nerves a bit. I began to understand more later on that she was kind of in 'denial' about everything- so she was slower to accept the crazy things right in front of her.